Hasse's Standard Service, now known as
Hasse's Towing Service L.L.C.
and
Hasse's Crane Service L.L.C.
was started in January 1959 by brothers Erwin (Butch) and Richard Hasse at the corner of Pipestone Rd. and Michigan 139 (M-139) offering Standard Oil products as a full service gas station and mechanical repair. Richard left the business later that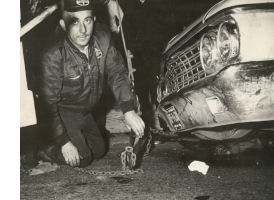 year due to an injury.
Towing was added to the business in 1960 as a supplement to the repair service. Butch's first new tow truck was a 1962 GMC 6500 purchased from Zerbel GMC, which was located on the other side of Pipestone Rd. Butch built his own tow body for that chassis at the gas station. In 1965, a new GMC 8500 series tandem axle unit with a store bought Ashton 20 ton tow body was added to the fleet. At the time this was the largest tow truck in Southwest Michigan. A lot of eyebrows were raised wondering, "Why would any body need something that large?" By today's standards that now is a mid range truck. Three more various sized units were added by the close of the 60's, with another growth spurt in the seventies adding seven more units to the fleet. A Landoll Sliding Axle trailer was added to the fleet in 1981. Again, another area first! Today's fleet total for the towing division numbers over fifteen units.
Crane service was added to the equation in the spring of 1982. That first unit was a 1973 Yale 22 ½ Ton rough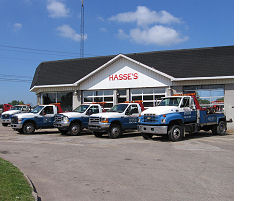 terrain crane which is still used today. A second crane, a 40-ton Clark Equipment hyd. truck crane was purchased in the fall of 1983. Today's crane fleet consist of seven cranes ranging from 22 Ton All-Terrain to a 125 Ton All-Terrain.
1991 saw an end to the full service gas station era as the major oil companies started to focus on the gas station-convenience store arrangement. Minor vehicle repair continued as the towing and crane continued to grow.
In 2001 Butch decided to retire. Oldest son, Steve was given control of the reigns. As the need to focus on the growing fleet maintenance grew, passenger vehicle repair came to a close. Also since there no longer was an affiliation with Standard Oil it was decided that a name change to reflect our core businesses was due, thus the beginning of Hasse's Towing Service L.L.C. and Hasse's Crane Service L.L.C.
We take pride in the longevity of the service of our past and current employees, the entry of the third generation into the business, thereby creating the continuity, knowledge, professionalism, and service that our customers have come to know.